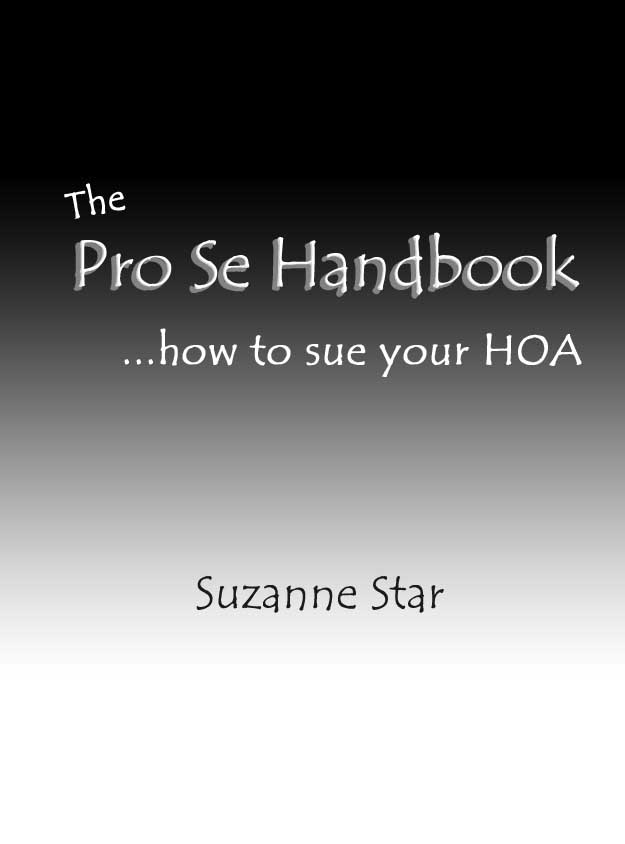 The Pro Se Handook . . . how to sue your HOA
Available on Amazon.
This handbook is based on the first court case to challenge the New Mexico Homeowner Association Act (HOA Act). It describes the failings of the HOA concept, exposes the deficiencies of the HOA Act and the time consuming and emotional challenge of litigating pro se in an incompetent judicial system. It offers advice about civil court litigation preparation and proceedings, document formatting, and where to find the rules and regulations for your court battle.

This basic self help guide is for those who decide not to sit on the sidelines, but want to fight for your rights because you'll miss them when they're gone.
There comes a time when one must take a position that is neither safe, nor politic, nor popular, but one must take it because it is right."
—Martin Luther King Jr.
New Mexico
HOA property owners
comments welcomed
NEWS BRIEFS
HOA Act Supreme Court challenge
* * * * *
694 bills were filed during the NM State 2021 Legislature session.

We requested changes but our representative failed to bring it to the floor.

We began our changes early June of last year. One representative declined to help. Another listened intently. The changes were directed to the legislative drafting department at the beginning of the session. We heard later in the sessions that the representative couldn't fit it into his schedule to introduce our changes.That was the last we heard of our efforts.

We realize there is no guarantee that a representative will accommodate a request. We are disappointed that there was no progress past the initial draft and that we still have not seen nor been contacted by the representative that was working on it.

We will try again next year, hopefully with a representative that will support us.
* * * * *
Don't rely on the courts to protect your HOA rights.
Justice isn't inevitable
September 10, 2020 - After the pro se party filed a motion to admit new evidence proving the issues in favor of the plaintiffs and requesting relief from the judgment on July 30, 2020, a new judge assigned to the case denied the motion and closed the case. The new evidence confirmed legislative intent that the records disclosure list was not an exhaustive list and the pro se litigants had legal rights to the records they requested. The court was wrong but they allowed the injustice to prevail without further consideration.